Click on the pictures to get a better view and to scroll through easier.  We also have more pictures on Facebook.
---
We landed at the Chiang Mai airport and immediately felt more relaxed. The vibe is more chill and although it's a busy city the environment was more appealing and it seemed like a slower pace. We got to our hostel, put our bags down and went to explore the area. The location we were in was pretty good, just a short walk to the night bazaar area with the wild nightlife and all the food vendors and shops. Almost every tourist you see in Chiang Mai wears elephant pants or harem pants, it was like seeing everyone walking around in their pajama pants. By the end of each day, we ended up walking around 6 miles. If you choose to walk rather than take a Tuk-Tuk you will get plenty of exercise throughout the day, which you will need from eating so much rice. Rice is good if you're trying to eat cheaply and be full but it gets to a point where you need a break for a couple days.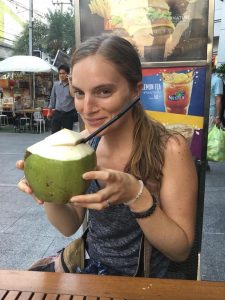 There were many local food markets and night markets and the food seemed fresher and more healthy than it was in Bangkok. The Ploen Ruedee Night Market near Night Bazaar was a place we went to every night. It was an outdoor food court with tons of food vendors selling everything you could imagine. We found an amazing Vegan food vendor, falafel, burritos, grilled corn and so much more. There was a lot of fresh fruit in the area too. The fruit smoothies around the corner from our hostel were heavenly and we drank at least 2 a day. As you walk down the streets they are lined with shops, restaurants, and people selling everything and anything. Often people are wheeling carts down the street selling fruit or snacks.
We walked by one of the many places offering massages, but this one was unique. They were offering a foot massage plus fish spa. This is where they use tiny fish called "Dr. Fish"  that consume the dead skin off of your feet. First, you dip your feet into a fish tank for about 15 minutes. Then you get a half hour foot massage, then you put your feet back in the tank for another 15 minutes. This method has been used in many places around the world to treat serious skin conditions, such as psoriasis and eczema. A spa in Turkey has been offering this service for more than 100 years. The fish don't have any teeth, so they can't bite off any healthy skin. They can only nibble at the dead, flaky skin with their lips. It's an interesting feeling and at first, the tickle sensation is unbearable but after 5 minutes it feels relaxing. If you ever get the chance, try it! You will enjoy the experience.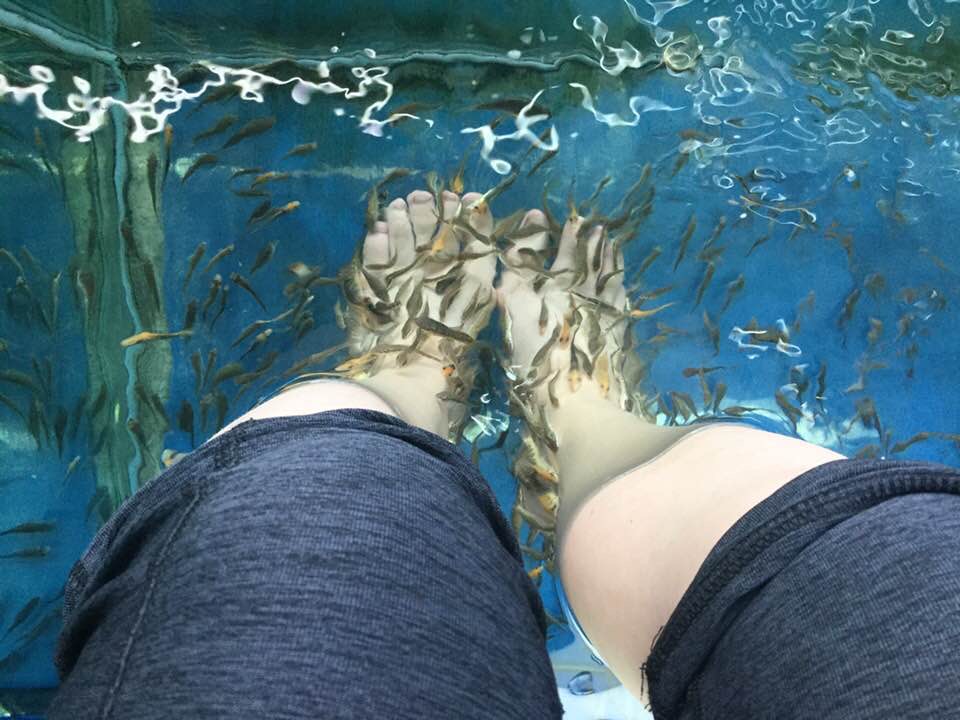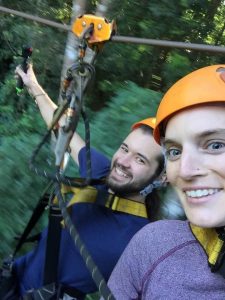 In Chiang Mai, there are unlimited amounts of tourist excursions to do and every accommodation has pamphlets for you to browse. They will also set up everything for you and often pick you up right at your doorstep, making it extremely easy. The hosts are very helpful and kind and are compensated when they book for you through the company's they work with. After browsing some of the pamphlets we decided to choose one touristy thing to do, zip lining in the rainforest. The one we chose wasn't the popular Flight of the Gibbons, that one was way too expensive but we did have a great time and saw a few monkeys in that general area. We chose Dragon Flight. If you book zip lining my advice would be to go at the earliest time and bring a long sleeve, in the morning its pretty chilly. Normally there are groups of up to 10 people but we went first thing in the morning and it ended up being just Jesse, me and our two guides, lunch included. So it was more personal and fun not having to wait in a line for everyone to have their turn. There were over 26 zip-lines and 55 platforms, one after the other. What was supposed to be around 2 hours ended up being a little over an hour because it was just the two of us. There was one zip-line that was the longest and as you ride down you begin spinning around in circles surrounded by the lush trees and sounds of the birds. It was really beautiful and money well spent.
My vision on Thailand wasn't entirely wrong, monks are seen often walking about the city, and temples are scattered throughout the cities and countryside, you can also see traditional clothes and dances at some night markets. If you want old school Thai culture you need to go out into the country, that's where you'll find the rice paddies, traditional farming, the hill tribes and for elephants you have the many parks and sanctuaries. I'm hesitant about spending money to go hang out with elephants, I'm not sure all are treated with the best care and it seems like they lack the freedom just to be elephants because they are spending so much time entertaining tourists.
After spending some time in Chiang Mai not working or volunteering but just traveling I couldn't help but see how the swarms of tourists are flocking in and changing traditional Thai culture but I guess that comes with growth and expansion. All of the tourists flying in from all over the world are bringing in income for the local people so it becomes a supply and demand type of situation. The more we come, the more Thai pants, elephant clothes and Buddha statues will be sold. In my option and from what friends have said, the true gems are in the north, but there are also some less touristy beaches that are amazingly stunning. After seeing the touristy aspect of traveling we were reminded that it's not what we want to be doing. Majority of people are traveling for a while on holiday or for a year or so with plans to go back home after and continue to college or go back to their jobs. Jesse and I are different, we aren't planning on going back to the U.S. to live so our home is wherever we are in the present moment. This also limits spending money, so volunteering is essential in order for us to travel cheaply and at the same time its what we want to be doing. After a week in Chiang Mai just sightseeing we decided it was time to volunteer, so the search began.