Click on the pictures to get a better view and to scroll through easier.  We also have more pictures on Facebook.
---
After a few days of struggling to find a place to volunteer, we lined up an opportunity in San Kamphaeng about 20 minutes South East of Chiang Mai. It was a breath of fresh air getting out of the city. The director of the project, Xavier, stayed at a resort in a different location but on the land where we lived, there were 4 Thai people and 3 from France. Everyone was very welcoming, kind and funny! Accommodation and food were provided, in exchange, volunteered 4-5 hours a day and were able to take a day or two off to ourselves whenever we wanted. We stayed two weeks in a tent behind the bungalow. This was the longest I've spent in a tent and surprisingly I didn't get sick of it until around the 10th day. Spending 2 weeks in a two-person tent feels a little tight after a while. We put up a wall to block some of the sun and eventually we added a roof to keep the sun out even more. At night the temperature dropped so it was nice sleeping weather. We often woke to a damp blanket but we adapted pretty quick. We usually woke up around 7:30 for breakfast and soon after began working, which was a good thing because around 9 AM it started getting hot around the tent. There were mornings where the goats would escape and we would hear them chomping on some plants right on the outside of our tent. I've grown very fond of goats, they are very verbal and have quite the personalities. Each day I began feeding them some of the leaves that were out of reach to them and every time I'd walk by them to get to our tent they would all look at me and baa. Someday I plan to have a little goat family, they are so cute!
The project we are helping with is part of a Thai Foundation called Permaculture Children's House. The project is off-grid, mainly powered by solar and the roof of the bungalow was made out of recycled milk jugs. It is both a farm and education center in the beginning stages,  located in the middle of the countryside with rice fields (rice paddies) and mountains in the near distance. There are many building projects in the works but in the end, there will be an academy and education center where children will learn hands-on about permaculture, dancing, cooking, language practice and so much more! The type of education will be more self-directed, giving the children the freedom to learn what they are interested in and its inspired by Montessori philosophy. Children are the key to a better future. One of the main goals is to teach them to care for the Earth and care for each other.
There was an assortment of work we did while we were volunteering. There are goats, pigeons, ducks and geese on the land so some of the work was making sure the animals were fed and also planting trees around the land. We helped with building the bungalow by laying bricks, hanging metal studs for drywall and putting up plaster. This was my first time ever doing plaster and it was a lot harder than it looks! Eventually, I got the hang of it and the wall was super smooth but it definitely takes practice to get quicker at it. The bungalow is being built for Xavier and his family to live in, along with a few others. We also helped with the creation of the terrace which was created with the intentions of having a larger eating area so everyone can eat together. This was a fun project, we got to walk in the cold, mushy clay with our bare feet. Jesse also spent a short time getting the 4 wheeler running again and another machine. He really is quite the handyman when it comes to fixing machines.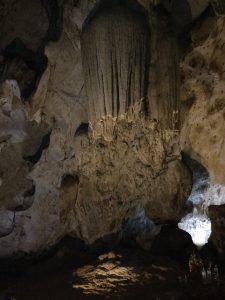 On the land, we had access to a bicycle and a tandem bicycle to go to the local market. Every few days we would go to the market to get fresh veggies and tofu. We took turns preparing food, most times we ate together and generally if you were to cook, you cook enough food for everyone. There was a small outdoor kitchen, very cute but a little crowded when multiple people were in there trying to cook. Over time when the bungalow is finished, the kitchen will expand. There was also access to a motorbike so we used that instead of the bicycles. We would often take it for a ride to the store to grab a snack or drink. On one of our days off, we took a ride up into the mountains to a local cave. The motorbike struggled a little to get up the hill and at one point we had to shut it off and give it a rest, but we made it. The cave was pretty sweet, the ceilings were tall and on a few rocks, I saw a crystal-like substance shimmering. Throughout the cave, there were Buddha temples and we saw quite a few people stopping to meditate and show their respect. Unfortunately, the camera we have isn't the best so we didn't get any good shots of the cave. After we stepped outside, we hiked up the rest of the mountain. It was nice to be at the top feeling the fresh breeze and we saw a few monkeys hanging out in the trees.
Another time we went for a ride on the motorbike we found this beautiful temple with a giant golden Buddha. We had to climb many stairs to reach it and when we got to the top we discovered that we were the only ones there. After being at some temples in Chiang Mai and being surrounded by so many people it was really peaceful and nice to have the place to ourselves. This is the peace you imagine while seeing a temple, in reality, the majority of the time the temples are overcrowded. It's understandable, they are beautiful and everyone wants to see them but when there are so many people I feel it distracts me and takes away from some of the beauty. This temple we came across happens to be my favorite one so far. The giant golden Buddha is something we woke up to every morning, we could see it off in the distance near the mountains, so it was nice to see it up close. We had no idea how beautiful it was going to be, there were also many Ganesh statues and different animals. It was really cool to walk up all of the stairs with the giant Buddha right in the center, it was very peaceful and calming.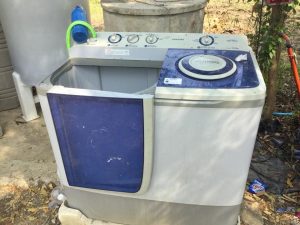 This was a really great experience because we were truly living on the land and helping with the everyday daily tasks. The washing machine was solar powered too and it had a dryer attached to it. It wasn't a typical dryer though, this one somehow heated the clothes while they spun and after about 10 minutes spinning you open the lid and the clothes are generally pretty dry. A little damp but nowhere near as wet as when you put them in the dryer. It was a very cool process and the fact that it was solar powered was really amazing. Being out in the country we were able to experience a little more about Thai culture. At night 2 of the Thai guys would go hunting with their handmade air rifle and a headlamp. They are excellent hunters and often came back with random birds, rats, and frogs, which they would eat the next day. Many Thai people are very genuine and kind and are always willing to lend a hand where it is needed.
This was our first volunteer experience in our travels and although we did work we had a lot of down time to just relax in our hammock. In our free time, we also learned a new card game, helped make shampoo out of kerf lime and learned how to make hemp anklets. Overall this was a fun experience sharing some space with a great group of people who are working towards creating a beautiful future for both children and themselves. Living sustainably while reducing their footprint on the Earth and recycling to minimize the waste they produce. We thought about staying a third week but we felt it was time to leave and continue our journey elsewhere. We packed our bags, said our goodbyes and were off on the next adventure.