Click on the pictures to get a better view and to scroll through easier.  We also have more pictures on Facebook.
---
Myanmar wasn't originally in our travel plans but we had a month to keep busy before going to Laos so instead of staying in Thailand another month, we took a look at the closest countries to Chiang Mai and decided it was the best choice. Myanmar was formally called Burma so throughout this post I may use the two interchangeably, although I was introduced to the country by a Burmese woman as Burma, so I prefer Burma.
While waiting for the bus to Burma I was reminded of my Burmese students back in Rochester. A woman waiting with us had the same sweet smile that I remember. In the past, I've always had a hard time distinguishing different Asian cultures but as time goes on, I'm able to pinpoint the differences in facial features and overall presence, which are now clearer signs as to where a person is from. The overall service at the bus station was friendly and helpful. The bus ticket is mostly In Thai but the name of where you're going and the bus number are all you need to find your gate. All of the signs are written in both English and Thai and are similar to a bus station in the US except it's a more open, free-flowing air kind of environment. There are also food vendors and a few small shops. That's one thing I love about tropical landscapes, the openness of it all. Countries with warmer weather almost year-round tend to have more of a natural air flow. I guess the downside is that it's often a higher level of pollution. The open outdoor kitchens are a favorite of mine. You have to be smart about leaving food out but surprisingly you don't get as many bugs as you'd imagine.
To get to Burma, first you take the green bus, the bus is similar to a US greyhound with comfortable seats, air conditioning and a crazy amount of reclining space which is great for you but terrible for the person behind you. I couldn't believe how far they recline, your head is basically in the lap of the person behind you. Thankfully everyone is aware of this and reclines respectfully. There is the bus driver and a helper. The driver has a door that shuts behind him closing us all in the back end of the bus. Don't worry there are numerous emergency exits. When we got on the bus the helper began handing out complimentary water and snacks as if we were on an airplane. For a 5-6 hour ride, you definitely don't get this kind of treatment back home.
As we journey to leave Thailand I couldn't help but feel like we didn't do or see enough of the beautiful country, we probably should have stayed in Thailand another month but the wind was blowing us elsewhere. Thailand is full of mountains, beaches, islands and unlimited amounts of fun stuff to do, but when you have plans to see 10+ more countries you really have to be smart about traveling. Someday before leaving the general vicinity of Asia, we will return back to Thailand for some more exploring. I'd love to spend some time in a local school and teach or just observe their way of educating and also see more of the countryside. You can do a lot in a month but it really does go by fast and before you know it you're on the road again. I would recommend staying a few months with a good mixture of both volunteering and pleasure, but if you're wise the volunteer experiences could be the highlight of your time spent in a country.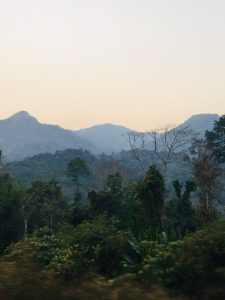 Looking out the window and driving past all the mountains reminded me of how much I love being surrounded by trees and the high peaks. The air pollution is pretty high during the dry season so unfortunately, everything has this foggy haze. When I drive through the mountains I always get this moment where I take a deep breath and exhale this calmness and am suddenly filled with all this gratitude for being able to see the beauty that nature provides. Different landscapes definitely appeal to certain people and although the beach and ocean are unbelievably beautiful, I am definitely a hike a mountain, get lost in the woods kind of girl. I'm pretty sure I get that and my thirst for adventure from my Dad (Thanks Dad).
There are times when I look at Jesse and I'm like whoa we're in Thailand. Now we're heading to Burma, it's pretty wild to be co-creating this adventure together. He is definitely the right travel partner, from experience I know I can't travel with just anyone but our general outlook on life is the same making it almost effortless at times. When I need a break he takes control and vice versa and we join back in the middle to make the important decisions together. Not to mention he's the brains when it comes to navigation, my sense of direction is non-existent and my internal compass seems to always be on standby. Geography has never been my forte.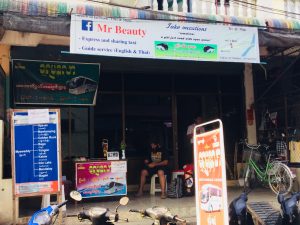 After hours of driving, we arrived at the Thai-Myanmar bus station, right before the border. As soon as we got off the bus we were guided into a truck to be brought to the border, which cost 50 Baht each. The truck gets to the border and drops us right at Thai immigration. I must have accidentally thrown out my departure card but thankfully the woman just created a new one for me. Then we had to walk down a little further, fill out an immigration card and go to the Myanmar immigration office. They stamped our passports took our pictures and then we were free to cross the bridge into Myanmar. The bridge is about a half mile long and the only way to cross as a foreigner is by walking, although some have been known to hitchhike. The area right after the bridge is very busy and isn't a place you want to settle for the night so once we got across we immediately looked for the bus station so we could go straight to Yangon. After asking a few people we were directed to a guy who had a little table set up with bus tickets to different places throughout Burma. We bought our tickets for 400 baht each which is around $12 American and had about an hour or so to wait for our overnight 10-hour bus ride to Yangon, arriving around 5 AM.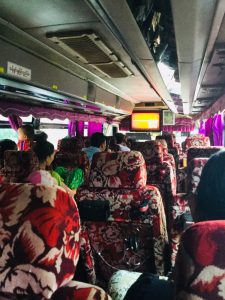 Since we had an hour before the bus comes and a long ride, I went in search of food so we wouldn't be hungry. We've been carrying around a Tupperware container to store food in while traveling from place to place and I highly recommend it because it really comes in handy, plastic ziplock bags are great too! In the Burmese language, there's a special word "Thatalo" which means 'no living things.' The guy that sold us the bus tickets told me how to pronounce it and said it's meditation food, aka, vegan. Even though plants are living. I went to a food stall where I saw a woman serving noodles and tofu and said "Thatalo" and she repeated it and "I said yes no meat". She served us some noodles with veggies, tofu and different sauces she put on. This word is well known throughout Burma so I can go anywhere and say Thatalo and BAM, delicious vegan food! I always say no fish, fish sauce or egg too because often fish sauce is in a lot of dishes throughout Asia and you know when its in your food because its a very distinct smell. While walking to find food everyone was so kind which made me smile even more. When I got back to the bus where Jesse was waiting a guy was there to pick us up to bring us to the bus. He was pedaling what seemed like half a bicycle with a small cart attached to the front where we put our bags and sat. It was extremely unstable and heavy so the 5 minute peddle to the bus stop must have been very difficult. We made it without tipping over and stopped at this side alley bus station which looked to be someone's house. They pulled out some plastic lawn chairs for us to sit on and we waited to leave. After about 10-15 minutes we are told it's time to go. The bus we're taking through the windy mountain roads is an old sketchy tour bus from the 1980s, with cigarette trays for every seat. Thankfully smoking wasn't allowed. It wasn't in the best condition and our bags in the undercarriage were held closed by an old toothbrush instead of a padlock. You need to use what you have I guess, we hoped for the best. Jesse was having a hard time trusting we would be safe, having a mechanics mind he knew the bus had some major problems. I told him to just close his eyes and not to think about it and that they do this stuff daily, we will be fine. When I stepped onto the bus to see there was no bathroom, the 10-hour bus ride suddenly felt a lot longer. I immediately ran off quick and asked to use the bathroom before we left. I was led to a really run down squat toilet bathroom in the bus station building. When it comes to using toilets in Burma it seems that you can ask just about anyone and if you're genuine about it, they will allow you to use theirs. It may not be the best quality or the cleanest but it's a toilet and I'm pretty sure squatting outside like they often do in Ghana isn't acceptable. There are so many pagodas and temlples in Burma that its likely that you may accidentally squat on holy land, so its best to find a public toilet or ask a local.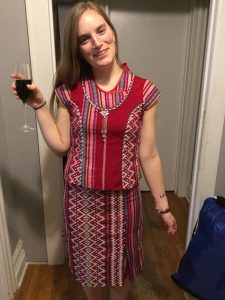 Shortly into our second bus trip, we were entering more windy mountain roads with dirt paths in the mix and little towns in between. Unfortunately, we didn't get to the border in time for the early bus so we were on the overnight, where you can't see anything till sunrise. I was looking forward to the journey and seeing the landscape but I guess the universe had other plans. This was probably a good thing since Jesse was not at peace with the buses condition. At least now he couldn't see anything to worry. I've traveled in worse conditions in Ghana so these comfortable seats are luxury for me. Even though my seat was broken, it was comfortably broken. I could do without the mothball smell though. There's something about Burmese culture that they use moth balls all too often. When my student Eh Paw made me a traditional Burmese dress, I had to ask specifically for her to not use moth balls or else it would be near impossible to get the smell out of the clothes. The dress was beautiful and hand woven with a lot of detail. When we took money out at the ATM, the crisp bills also reeked of mothballs. It really is a strange distinct smell, I'm not sure how people can walk around smelling it all day.
The 10-hour bus ride turned out to be 14 hours. We stopped at a bus station and one guy got off, we weren't sure if we were supposed to or not so we stayed on till the next stop down the road where everyone got off. Everyone crowds you when you get off the bus, they all want to be the chosen one, to take you to where you need to go. We grabbed our bags and a guy walks up to us asking us where we were going. We said we needed a place to sleep and he mentioned city center which is 1 hour away driving give or take with the crazy traffic. We were able to talk him down 2,000 Kyatt but I knew we got ripped off. It was a bit chaotic and we needed to get out of there so we agreed to the price. The traffic reminds me of a mix of Accra and the Philippines where everyone communicates through honking their horns. The look on Jesse's face was priceless. So in total, the trip was 15 hours not including getting to the place we will be volunteering which I think Is another hour.
We didn't have a hostel booked yet and unfortunately didn't do too much research but our driver agreed to stop at three different hostels and we could choose one of them. The second one we stopped at was called Backpacker Bed and Breakfast. They had decent pricing, clean rooms, friendly staff, a rooftop restaurant, free breakfast and unlimited clean drinking water and juice. We were sold. When we stepped back outside to pay the driver he tried to rip us off even more, saying the original price he said was per person. I said no you never said that he then slapped his forehead saying that he forgot. Since we knew the price was ridiculous already I looked at him, smiled and said no. I couldn't help but wonder how many visitors he's ripped off with that routine.

Myanmar is filled with genuine smiles and kind people. We spent a few nights in the city of Yangon at a local guesthouse. Settling in with the culture a little before jumping into volunteering. We took the time to check out some of the local markets and pagodas. There was a night market close so we ventured to see what was being sold. We imagined it being a typical market with clothes, jewelry, souvenirs, and food, but we were thrown off by what was actually there. There wasn't too much for food but there were 100s of cell phones, game systems, watches, sunglasses, chargers and tons of old electronics. We saw a few iPhones on sale really cheap so that night we went home and Jesse did research so he would be able to tell if It was real or not. Turns out it was a fake from China and the second camera on it wasn't even real. From what he read, some Burmese get the fake iPhones even though they aren't real because it makes them look wealthier. It was pretty wild to see all electronics, piles, and piles of electronics. I've been traveling before and needed a charger so although I've never seen a night market like this one before, I could see how it would come in handy.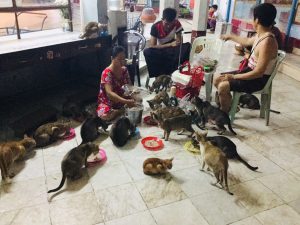 There were many pagodas scattered throughout the city but we only saw a few of the popular ones. In the city of Yangon golden pagodas are very popular and they are beautiful but the more you see the more they all look the same. The pagodas were swarmed with both tourists and locals, but were filled with magic and radiated so much positive energy. There are certain Buddha's based on what day you were born and a specific ritual you complete using the 4 elements (Earth, Air, Fire, Water) to show your gratitude and respect. I found out I am a Monday Buddha and Jesse is a Tuesday Buddha. A local guy that enjoys telling the history of Buddha, walked us each through the ritual pertaining to our specific day. It was a beautiful process. There was a woman at the Sule pagoda that fed the stray cats every night, 100s of cats show up at the pagoda around dinner time and she single-handedly feeds whoever is hungry. As you walk around the pagodas you can see cats throughout, climbing on the different statues and often just resting or playing together. The Shwedagon Pagoda is the most sacred pagoda in Myanmar and is believed to contain 8 strands of Siddhartha Gautama's (Buddha's) Hair along with a few other relics.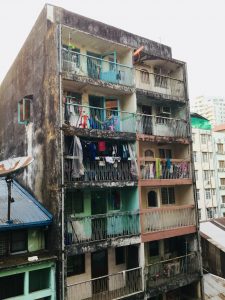 The city of Yangon is pretty polluted and many of the buildings are old and decaying, yet I found so much beauty in it. There are clothes laying over the railings 8 stories up, crows that sound like monkeys, and a beautiful view of the sunset from our guest houses rooftop. When its night time you can see the local families sitting with their children on their balconies, often eating dinner or just enjoying the cooler night air. Tourism is on the rise so it's a perfect time now to be visiting Burma. I often wonder what it was like before 2012 when the majority of foreigners weren't allowed in Burma. After doing some research I've read that the doors to Burma have only been opened for 6 years now after going over 50 years without tourism. The original visa process has changed significantly, now you apply for an e-visa online which is available to over 100 nationalities making it extremely easy to visit. It's hard to believe that in 2012 internet wasn't accessible and rarely did you see a Burmese walking around with a cell phone, speeds were so slow that most services would have been impossible. It was a place that was disconnected from the world. Flashback to the night market with all of the electronics we saw and you can tell that there has been a huge amount of growth in such a short period of time. I'm beginning to understand why my Burmese students were so grateful to be in the United States. They were sheltered for so long that now the whole world is opened up to them, literally. When we first arrived I could see that growth was quick, you felt it in both the air and environment as a whole. I was concerned with all of the tourists coming in and some of the changes happening. I could see now how tourism is benefiting many locals yet at the same time it's changing their culture completely. The infrastructure here is very old, especially in the major cities and the sewer system alone isn't designed well enough to handle the large influx of people. In the future I foresee a lot of rebuilding, I hope that over time, this beautiful country doesn't lose the special charm that it emits.
After spending a few days exploring the city life, and learning more about Burmese culture, we were ready to go relax and do some volunteering at the Thabarwa Center, just 15 minutes outside the city, 1 hour with high traffic. The Thabarwa center is a meditation center with a twist. You get the chance to live among local Burmese people in a place where everyone is co-existing for free. We packed our bags and headed to the center to lend a hand wherever it was needed most.